In light of the Covid-19 pandemic, one thing has become increasingly clear for digital marketers everywhere – your customers want to know what your business cares about and it's important that your brand values resonate with them.
The great thing about social media and other digital channels means that consumers have access to many more brands and businesses than ever before, which provides a great opportunity for marketers to speak to and reach new audiences. However, it's not just brands that have the spotlight. There's been a significant increase in the visibility of social causes online and with that, we've seen a number of brands express their support for these issues.
While this can be seen as a noble cause, it's not as simple as saying you support tough issues if your brand or business doesn't reflect this.
When company values backfire
A great example of this can be seen in the Black Lives Matter (#BLM) movement. While not a new issue, when this cause gained widespread exposure across social media in mid-2020, we saw a number of brands jump on the bandwagon to show their support, but the support for the movement was not reflected anywhere else than a few social media posts and hot takes.
Why you need to live your company values
Brands and companies must do better. 90% of consumers resonate with brands that stand behind social issues, but that doesn't mean they can't see through inauthentic attempts at this.
If you are a brand or business that claims to support and encourage diversity, mental health issues, employee growth, etc then how do these values reflect in your day-to-day work environment, and not just your curated social media calendar?
Here is a failed company value example closer to home
Some may recall a post by popular local retailer, Clicks, advertising Tresemme products that went viral on Twitter for the wrong reasons. After noting the backlash, acknowledging their faux pas and issuing an apology and promises to do better, one may think that this is the end of this unfortunate incident.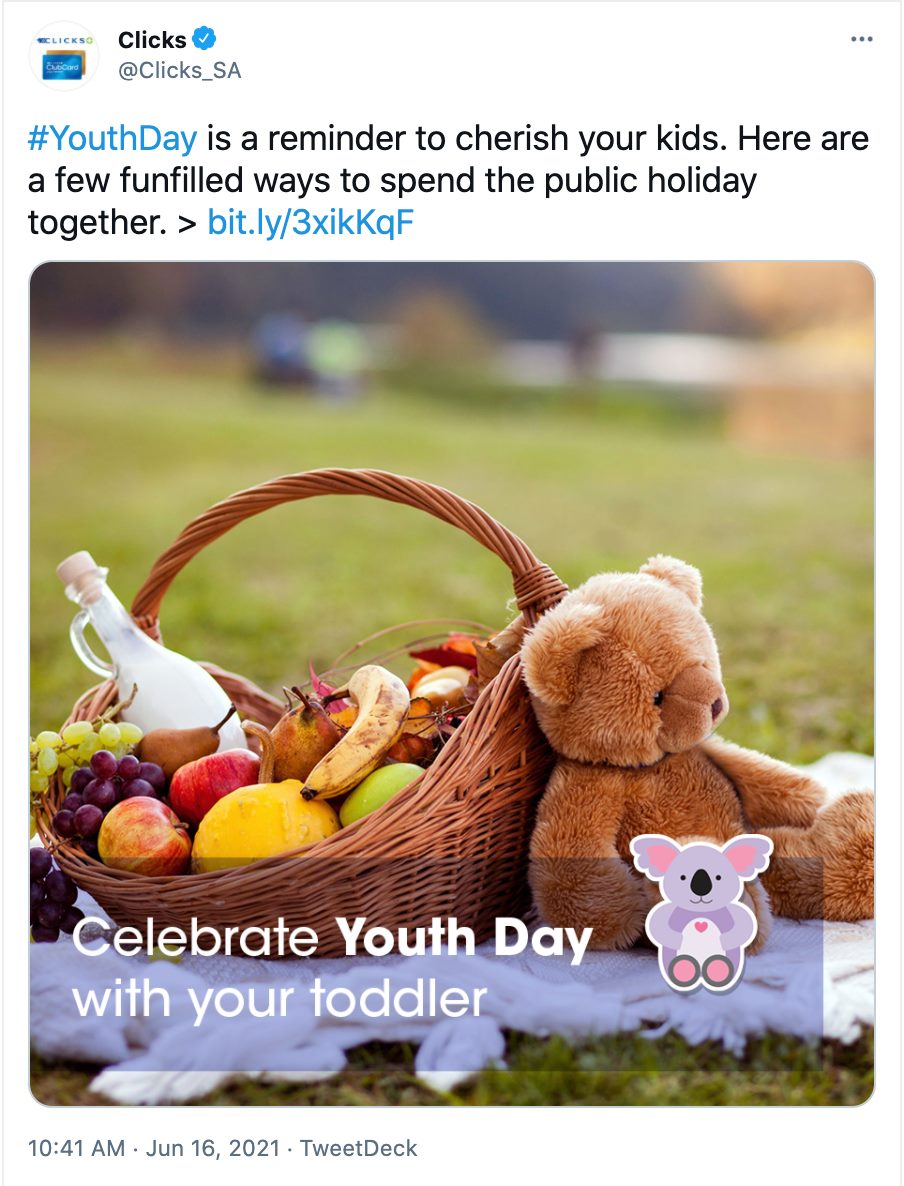 However, one year later, we find Clicks in the same boat yet again, posting an inappropriate and tone-deaf image on a significant day in South Africa's history. While spending time with your toddler is a great way to enjoy a public holiday, in the context of Youth Day in South Africa, there was no need for this post to be made just for the sake of saying something as a brand.
So, what does this tell us? It tells us that the previous apology may have just been lip service to diffuse the uproar, that no real changes have been made in the business in terms of content quality control, and that no real attempts at understanding the environment this brand operates in have been made.
Why company values and behaviors should match
Remember, consumers are always watching and while some incidents online may seem insignificant, how your brand responds and reacts to them will ultimately showcase whether or not consumers can trust what you say about your business.
We don't all have to be social activists and brands don't have to jump on every cause that is placed in front of them, but if you want to maintain brand awareness and trust in a time where people are always watching, then be authentic and transparent with your audience about who your brand is and what values you stand behind.
So, what do you do if you happen to be caught in a social media storm?
1. Acknowledge and apologize for your mistake
This means specifically address the issue that has made consumers upset and not just a generic PR apology. Social media happens in real time, so being quick to address and deal with this can also work in your favour.
2. Remove the offensive material.
In some cases, the screenshot curse is unavoidable, and the post may be brought back to your attention, but the faster you remove it from your profile, the quicker you can do damage control in the form of community management.
3. Do better. And let this not just be lip service.
If your brand or business makes a claim to make changes then ensure you follow through with this. As mentioned, we're not all social activists and there's no need to jump on every issue but there are definitely ways your brand or business can show support. Think internal incentives for your employees that promote career growth, supporting a local charity that is doing work in your community, or promoting and encouraging mental health among your employees.
Small changes can make a big difference and when these changes are reflective of your brand and its values, it can make all the difference.
For more tips to help you improve your social media strategy, download our social media ebook.