Penquin worked with Suzuki South Africa to launch the all-new Ertiga in 2019, and it caused quite a stir in the South African motoring community. We look back at the launch and its results in detail.

Penquin partnered with Suzuki South Africa to launch the seven-seater luxury vehicle, the Suzuki Ertiga, to the public back in 2019 and it was a huge success. It was also this campaign that earned us a spot as a finalist for the New Generation Awards 2020.
From social media to email campaigns and a variety of Google Ads, the Ertiga sales enquiries and the number of customers received exceeded all expectations when sales increased by 127% within the first three months of the launch. With Ertiga's range of models, comfort and stylish features, this came as no surprise!
The Suzuki Ertiga is a high-spec model with chrome door handles and rear chrome garnishes designed for families looking for an economical and well-equipped vehicle.According to Chris Wall, one of our favourite car fanatics, "Locally, there's a huge demand for these cars. There's a large chunk of the population that relies on the taxi system for transportation. They're also a perfect fit for any company ferrying tourists, school kids and the elderly. Not to mention families, who simply want something large, economical and reasonably well equipped."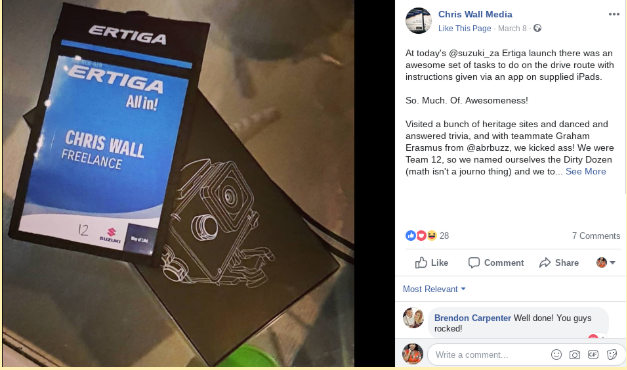 But, let's look at some numbers:
382.98% more Ertiga models sold by Suzuki in the launch period. (March-June 2019) compared to previous months.
685.97% increase in website sessions.
110.24% increase in new online enquiries.
66% increase in customers, compared to the previous time period.
Need help with your next launch? Contact us today!
How did we do it?
Our launch collateral included all integrated marketing aspects like social media, print ads, outdoor advertising and radio ads. We truly believe this led to the success of the launch.
The catchphrase, "All in" really encapsulates what it means – the Ertiga is a fun-to-drive, comfortable and reliable utility vehicle in South Africa catering to all diverse families.
It's a seven-seat luxury vehicle under the R300 000 mark.
Its stylish and luxury features aim to please any type of South African family.
It's great value for money if your family is on a tight budget.
What the launch entailed
Suzuki chose to introduce the "All-in" Ertiga on 8 March 2019 to South Africa's motor community, and it was well received.
We used the following marketing tactics for the launch:
Inbound marketing

:
The Ertiga was launched to relevant personas through email marketing and forms on our website.
Digital media

:
By using the Google Network, various Ertiga display banners and launch videos were used on YouTube where subscribers were increased by 3 878%.
Print media

:
Print ads were placed in selected publications for exposure.
The media

:
The Ertiga launch took place in Johannesburg on 8 March 2019 and well-known car enthusiasts and journalists were invited.
Television and radio

:
Television and radio ads were distributed and scheduled on channels for maximum exposure.
Social media

:
Suzuki launched interactive and paid campaigns across Facebook, Twitter and Instagram and 95 new contacts were received from these campaigns.

Outdoor advertising

:
Billboards advertising the Suzuki Ertiga were placed strategically in certain cities and towns.
Our sales figures do the talking
416.4% in basket share of the South African multi-purpose vehicles market.
382.98% more Ertiga vehicles sold in the launch period compared to the previous period.
41.88% more Ertigas sold by Suzuki than our goal for the launch period. The goal exceeded the current sales figures significantly.
1110.16% ROI from the Ertiga launch.


Planning a product launch, too? Download our Integrated Marketing eBook to help you get started here: