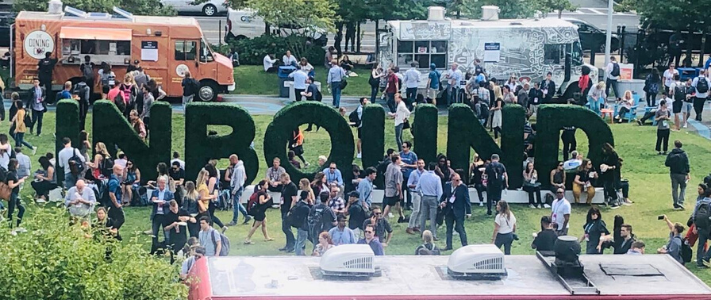 INBOUND is not just a business conference - it's a life-changing experience. Here are some key takeaways from Ryan and Mel who attended this year's event.
Our dynamic duo who went to INBOUND19 came back with great wisdom, plenty of business insights, and key learnings for both work and life. Ryan Nofal, Client Service Director, and Melissa Mays, Account Director, were blown away with just how awesome INBOUND gets every year and this is what they had to say.
Ryan's learnings
As Client Service Director of Penquin, I'm always keen to learn about new ways to ensure our business remains at the forefront of our industry and keeps our clients at the centre of our business. I've always walked away learning more on business leadership and this year was no different. This was my second time at INBOUND and the spotlight session with HubSpot founders, Brian Halligan and Dharmesh Shah, remains a favourite.
Disrupting industries through customer experiences
Brian focused the term 'disruptors', and how it's the most overused yet least understood buzzword. Big corporations such as Google, Apple, and Tesla were seen as major technology disruptors when they first came onto the scene many years ago. The shift is no longer bringing new technology into the market. Now, it's about making the customer the centre of your business model to ensure a seamless and convenient user experience.
Local disruptors such as Showmax and Uber have let customers view what they want on their own schedule and given them the power to take themselves where they want to go without a car of their own.
The power of the customer is greater than ever before. Those who understand this and integrate it into the way their entire business operates will continue to grow year on year.
Brian called these kind of companies a new species who focus on more important things compared to their incumbents. You can watch the video from the Johannesburg HubSpot User Group (at the end of this article) to see a great example of an international experience disruptor in the automotive industry that really impressed me.
Two statements from Brian's session at INBOUND19 are gems for any business. He said, "How they sell, is why they win" and "Removing friction".
No matter how great your product is, if you don't sell your product to your customers in a way that has the least amount of friction, your sales numbers won't grow. How do you ensure your sales are frictionless? Well, many companies have moved to digital to ensure a customer can find their product and complete the sales journey online in their own time.
Customers expect a personalised experience
Personalisation is key for experience disruptors. Netflix is the first company that comes to mind when you think of personalised customer experience. They monitor and analyse your viewing behaviour to bring the content you want to watch. Again, how they sell is why they win. Don't be afraid to remove processes and procedures in your business that get in the way of giving your customers frictionless selling.
Become the experience disruptor in your industry!
---
Sign up for regular updates about marketing and advertising in South Africa and abroad.
---
Melissa's learnings
I've been a part of the Penquin family for four years and this was definitely one of the highlights of my time here at this awesome integrated marketing agency. I've heard so much about HubSpot and its founders, and Brian Halligan and Dharmesh Shah lived up to their reputation in their spotlight session. Another speaker who blew me away was Dan Gingiss, Chief Experience Officer at Winning Customer Experience.
Using content to delight your customers
As his title indicates, he has a passion for providing great customer experience. He has worked for two decades focusing on delighting customers, spanning multiple disciplines including digital customer experience, marketing and social media. This session really tied into the theme of Brian and Dharmesh's session: chasing prospects with content isn't how you're going to convert them to clients because there's just too much information being churned out every day.
Dan pointed out that many think that most of the content around brands on social media is negative - but that's incorrect. According Sitel Group, 49% of people would share a positive experience compared to the 30% who would share a negative experience. Now how do you ensure your brand get this positive social media content? By ensuring the experience the customer receives is more than just "meh".
A great take away from this session was the WISE approach to help you steer the online conversations about your brand in a positive direction. WISE stands for Witty, Immersive, Shareable, and Extraordinary. Being witty does not rely on humour alone and you should be careful of using humour, as this can be subjective. Being witty is about saying something you would normally say in a slightly different and unexpected way. A great example of this is what I experienced in Boston, Massachusetts for INBOUND19. A company called Yasso were giving away free ice cream but it was actually frozen Greek yoghurt. Their packaging was so clever and witty that I couldn't help but share it on social media.
How experiences affect customer relationships
Customer relationships are fragile. 82% of customers report that they would leave a company because of one bad experience. Being immersive as a brand is what helps maintain the relationship and build customer trust and loyalty. A good example of this is UCOOK who gives anyone the opportunity to become a gourmet chef and they have made it so immersive that people are happy to share their UCOOK experiences on their social media platforms.
Create something that people will want to share (and is easily shareable) with their family, friends, and colleagues.
Possibly the company who does this best is Starbucks. Baristas at Starbucks are known for misspelling names and there's humour in that which is why many people post their Starbucks drinks on social media. Being extraordinary doesn't have to mean doing something grand, it just means going a little further for a customer. Harvard Business Review says, "The number one important factor in customer loyalty is reducing customer effort." It's easy to remove friction from your customer experience if you put yourselves in your customer's shoes. Empathy can make your brand become extraordinary in the eyes of your customers.
The Johannesburg HubSpot User Group
Watch our video from the Q3 Johannesburg HubSpot User Group where we shared the gems we learnt from INBOUND19 and received great insights and learnings. Our sister company, Spitfire Inbound, had their Commercial Director, Trevor Van Rensburg, and Strategic Director, Alison Leishman, share their takeaways from INBOUND19 too. You can also learn more about new HubSpot updates in this video from HubSpot agency consultant and inbound marketing specialist, Bertrand Sempéré.
The inbound methodology has proved to be successful. Working with Spitfire Inbound, we have achieved great success and won numerous awards for our work with Suzuki Auto South Africa. INBOUND will always remain a key conference for us to upskill our team by staying on top of the latest trends.
Looking to partner with an agency who cares about your business as much as you do? You've come to the right place! Chat to one of our experts to see how Penquin can help you achieve your goals.