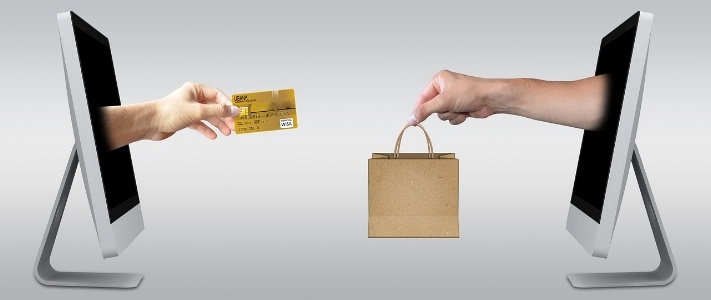 Marketing trends are constantly in flux, but some in-depth reporting gives us a look at what to expect going forward.
Year on year, marketers observe the trends of their target market to understand their consumption and buying patterns better and each year, Deloitte compiles a holiday trend report based on the projected online vs in-store buying patterns of consumers; particularly over the festive period.
The 2016 Deloitte Holiday Shopping Trends Report focuses on American shopping behaviour, but we both outline the trends and compare them to the South African Deloitte Holiday Trends and South African marketing to give more context.
1. Consumers are upbeat about the economy but rein in on non-gift giving holiday spending
While the consumers in the US reported that they are comfortable with the current economy and that they are more financially stable than the year before, this is slightly different for the South African market, where consumers have become penny-wise.
Both reports, however, confirmed that the trend towards non-gift holiday spending had been reined in: consumers are spending less money on holiday travel and socialising and focusing more on necessity spending.
2. Online will steal foot traffic from popular shopping venues
Why take on the queues, noise, crowds and stuffy stores when you can just purchase what you want from your home? Many consumers are opting to skip the malls, shopping centers and strip-malls for the convenience of online shopping. A large percentage of Americans have turned to this method of Christmas shopping in comparison to previous years.
This trend can definitely be seen, although on a smaller scale, among South African shoppers as well.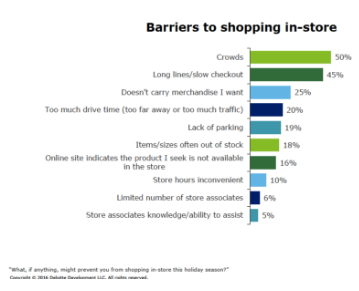 The American market certainly took a huge shift from the same period in 2015! A whopping 50% of the people in the survey said that they would be swapping out the crowded shopping centers for online shopping.
While there was definitely an increase in online shopping in South Africa, it was certainly nowhere near the 50% projected for the States. "Although online sales have increased year on year, it remains a smaller share of the market. Overall, we expect online retail sales to exceed 1% of total retail sales for 2016." according to the report posted by Deloitte South Africa. Which echos the prediction of online sales in an article published by WorldWideWorx "In 2015, the rate of growth was 26%, taking online retail to the R7,5-billion mark. While the rate is expected to fall a little in 2016, to 20%, growth in Rand terms is expected to remain the same as in 2015, taking the total to above R9-billion. Total retail is expected to remain below R900-billion."
Marketers definitely need to keep in mind that this number will grow in the near future as South Africans become more comfortable with online shopping.
3. Consumers still want the full shopping experience
According to the 2016 Deloitte Holiday Shopping Trends Report, "…shoppers will continue to blend both online and offline channels to optimise the shopping experience…"
In the States, two thirds of the shoppers will investigate the products they want to buy online and then go and purchase the product in store (also known as webrooming) A very similar statistic is true for the South African online shopping market.
About one in four Americans will engage in showrooming, which is the opposite of webrooming - meaning they will go to a store to see and touch and engage with the product before purchasing said product online. Only about 30% of the South African market engages in this type of shopping, according to the South African version of the report.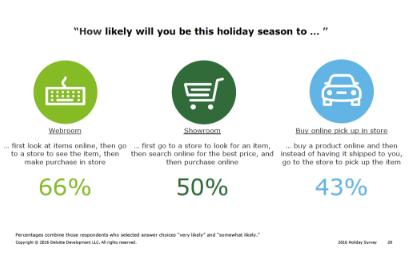 4. Consumers want to experiment with non-traditional venues
A vast majority of the surveyed individuals admitted to wanting to experiment with purchasing their goods at non-traditional venues. Large chain stores and shopping centers could lose some footfall to artisanal craft stores.
While it won't be common practice for everyone to stop shopping at Woolworths, for example, there are those who are willing to experiment with new merchants. South Africans are no different and are often seen wandering into a craft market or stall in search of organic, homemade goodies.
5. Retailers will still feel the prime effect
The more retailers get used to spending online, the more their expectations of the retailers rise. For example, consumers no longer consider three to four day deliveries as quick. They also don't expect to pay exorbitant delivery costs, if any at all. This is true for both consumers of the US and South Africa. If a retailer cannot provide fast, cheap (free) delivery, they run the risk of losing the order altogether.
6. PC dominates online spending
This is no surprise. Consumers feel more comfortable sitting behind their PC when placing their online orders as opposed to on mobile or tablet (although marketers shouldn't discount these devices when designing eCommerce sites).
Retail apps are also a great way for consumers to purchase (and repurchase) goods, claiming rewards and loyalty points as they go.
While there aren't too many retail apps in South Africa, consumers have taken to using apps such as Superbalist, a clothing and accessories online store. Takealot.com (this large online store selling anything from clothing to books to DIY and nappies). Other apps such as Mr Delivery and UberEats are a few other convenient ways South Africans enjoy ordering online via their mobile devices.
7. Consumers use smartphones as virtual shopping assistants
The general, international trend shows that consumers will use their mobile phones or tablet devices to investigate the products, compare prices, look up locations and read reviews. They want to be able to access the information on the go, wherever they are and their smartphones allow them to do this.
The steps they'll follow will either to go into a store to touch, feel and inspect the product (this is particularly true for South Africans) and then go home and buy it online (via PC) or purchase it in store to be delivered to their home.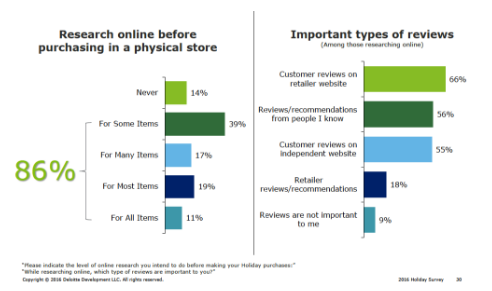 8. Nobody can resist a sale
According to the Deloitte Holiday report, 77% of the American market will take advantage of sales at some point. South Africans share in this trend and often will investigate a product in store, only to purchase the item online – why? Because often times the rewards are greater for purchasing online, they could make use of loyalty points or an online discount voucher for instance to get an additional discount not offered in the stores.
9. Data privacy is top of mind
American consumers are concerned about the privacy of their data, however this very seldom deters where they buy or what they buy. Very often these consumers will be forgiving should there be a data breach, as long as the retailer takes the necessary steps to correct the breach.
South Africans may still be a little touchy about their privacy but once they trust a site with their details they generally enjoy using the site or app. They may also be a little more unforgiving when it comes to data breach, due to their natural skepticism of online buying.
And to subscribe to the Penquin blog to learn more about how you can create great marketing strategies in 2017, click here: