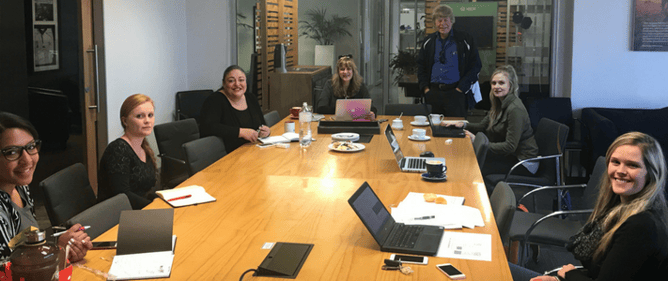 Collaborating with a marketing agency can free you up to shine in your core role.
Getting to grips with the complex and challenging world of marketing may seem like a minefield, especially when a bulletproof marketing strategy is one of the cornerstones of growth and success. Trying to juggle strategy, implementation, branding, social media and getting a handle on the dizzying world of digital – all while measuring metrics and analysing return on investment – it's enough to give anyone a headache.
Before reaching for yet another paracetamol, there are other options to consider. Many businesses are opting to outsource some or all of the components of their marketing efforts, in order to access additional resources and expertise.


Here are some of the reasons why this is a surprisingly smart move.
Access to plenty of brainpower
There are so many aspects to marketing that trying to conquer them all is impossible, and frankly, exhausting (read our post to see if your team is overwhelmed). On the other hand, an agency is a diverse crew of seasoned specialists who have honed their expertise in their field. Having a social media conundrum? There will be someone to talk platforms, content and analytics with you. Need some slick marketing collateral? A designer can work artistic magic on your behalf. Let the pros handle what they know best and you are free to shine in your core role.
They already know what works
Learning what works via trial and error isn't the most effective way to market, and refining your approach can cost you in terms of time and money. An agency has already done the legwork in terms of figuring out how to make marketing magic and can get stuck into your campaign straight away. This means that you can bypass the learning curve – and go straight to results
Hiring additional staff members to create an in-house marketing team is a fixed monthly cost, while having an agency at your disposal is far more flexible: you only pay for campaigns and you can increase or decrease your spend from month to month. It also means that you ditch the costs of training or upskilling staff, and you don't need to fork out for specialised software.
Any agency worth their salt will kick off by creating a tailored marketing strategy for your business. This means that all marketing activity will be carefully coordinated and implemented according to the bigger picture and everything is linked to your ideal outcomes. Even if you want to scale your marketing priorities up or down, a properly-developed and professional strategy keeps things from straying too far off the mark.
You get measurable results
Your agency will want to retain you as a client, which means that they need to prove their worth and stay accountable. This works for you because they will provide reports showing how your marketing spend has generated a return on investment. This also serves as a screening tool when you are interviewing potential agencies, as any good agency will promise you feedback based on concrete metrics. If they are wishy washy about measuring results, look elsewhere!
You will hone your competitive edge
From an individual perspective, having too many things to juggle in a day leaves you exhausted and unfocused. When you are comfortable and confident that you have outsourced to the right people, you free up time in your schedule to grow and develop your own skill set. Plus you don't have to worry about keeping up with the next big thing in marketing, because your agency already knows to stay on top of the latest trends, tools and best practices out there, and make any innovations work for you.
Learn more about running an integrated marketing strategy with our ebook on integrated marketing