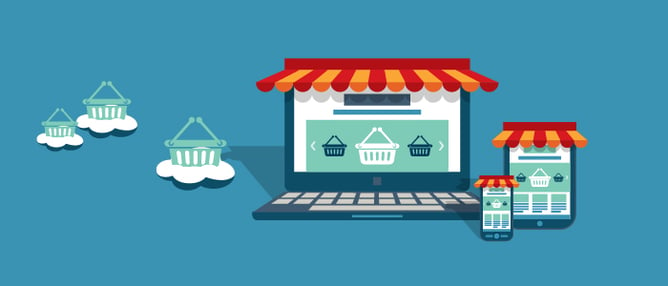 Small can be powerful, especially in the digital age. If you're wondering how a small business can compete with global giants like Amazon and established local e-commerce sites like Takealot.com, this article is for you!
Rodney Laws, Editor at Ecommerce Platforms shares some expert tips to help small to medium sized businesses (SMEs) and start-ups develop their strategy to enter the competitive world of ecommerce.
Why ecommerce isn't just for big corporations (and how to get started)
What springs to mind when you think of ecommerce? Perhaps you envision operations of Amazon-style magnitude: fleets of vehicles roaming the land, collecting huge quantities of parcels from vast warehouses and distributing them accordingly. Maybe you imagine slick high-performance websites with huge marketing teams working 24/7 behind the scenes.
Accurate? Sure. But not representative.
Those giant corporations are the exceptions: the extreme examples of what can be achieved through online retail. Most ecommerce brands aren't even close to working that way — they're just regular small or medium businesses.
Tips for small businesses entering the ecommerce space
If you have ambitions in the business world, then, you should seriously consider what you can achieve in the ecommerce industry. Let's take a closer look at why it's suitable for all types of entrepreneurs, and run through some tips for getting started.
You don't need space (or even products)
Remember those vast warehouses I mentioned earlier? Not only do you not need warehousing of your own, but you don't actually need any space at all to operate an ecommerce business. This is due to a practice called drop-shipping. Third-party suppliers list numerous products for resale, and you could add them directly to your store inventory: you'd mark up the prices accordingly, and any sales you made would be handled and fulfilled by the relevant suppliers.
Drop-shipping isn't for everyone, though: the profit margins are thin, and the product lines are generic. Thankfully, it isn't the only option. You can also use warehousing services to sell your own custom range of products without needing your own warehouse or distribution system: with Fulfillment by Amazon (FBA), for instance, your products get kept in Amazon storage and shipped out through the Amazon network when orders are placed.
It's cheap and easy to create an online store
The biggest stumbling block in traditional retail was actually setting up a store, because it was intimidating in various ways. Not only did you have to source the funds to cover everything (far from an easy task), but you also had to get everything moved into place and hire the staff — and if something went wrong, you were likely to end up in big financial trouble.
Things don't work that way in ecommerce. You don't need physical premises, or shelving, or tills, or even employees (more on that later). You can build a functional store for free using a template-based builder and get it live within hours by signing up to a simple and affordable hosting subscription.
The best ecommerce platforms for small businesses
You can pay more for a top-notch service like the popular Shopify, or cut costs with something cheaper (there's even a service called Freewebstore that genuinely costs nothing to run). And if your first store doesn't work out, you can just take it offline — no administration or cost involved — and start fresh.
If you're a fairly new business, you can also check out this handy article on How to take your small business online. This will help you identify all the essential elements of an effective website strategy.
Useful tools make it possible to work solo
With so much going into ecommerce, don't you need a big team around you? Well, not necessarily. Depending on your level of ambition, you might be able to work very capably without hiring anyone or even outsourcing anything. It all comes down to drawing from the massive pool of convenient tools available online.
Past the store setup phase, there are tools for everything from customer service (ticketing systems, social media alerts, even chatbots) to advanced marketing (running PPC ads, automating emails (for abandoned carts, or even birthdays), creating timed discounts, etc.). They won't do all the work for you, but they will drastically reduce your workload, allowing you to get by and keep all the profits for yourself.
How to start selling online
Now that we've set out why ecommerce is a viable path for just about anyone, we can look at some basics tips for how to get started with online retail:
Pick out your niche
There are thousands upon thousands of ecommerce stores out there, so you're not going to get anywhere if you settle for being generic. You need a niche, both for the style of your brand and the types of products you sell. Do some research to see what's popular and determine where there's potential to sell in big numbers. Want to sell health foods? Exercise equipment? Electronic gadgets? Pick a direction and go with it. You can always pivot later.
Set aside a budget
Money is always tight during the startup phase, so when you're just trying to get your ecommerce business off the ground, you need to know how much you have to spend. Don't commit more than you can afford to lose, because there's a reasonable chance that your first store won't work. In fact, you might have to launch numerous stores before you build one that actually succeeds — that's the nature of the market, so don't be afraid to fail.
Know your goals
At every step, you should have an idea of what you're trying to achieve — and this should go beyond wanting to sell products. Think about how you can improve, and what milestones you can reach: try to hit a certain revenue mark, for instance, or sell a particular number of products, or get a social media endorsement. Ecommerce is hard work and can be a real grind, so you need small victories along the way to keep you motivated.
In summary, ecommerce isn't a domain purely for Amazon-style business benemoths. It's viable for everyone, no matter how small the budget may be, and can work well as a side business for an entrepreneur or a full-time concern for an ambitious seller.

Stay up to date with the latest trends in marketing and sales. Subscribe to the Penquin blog and get our latest content delivered straight to your inbox.