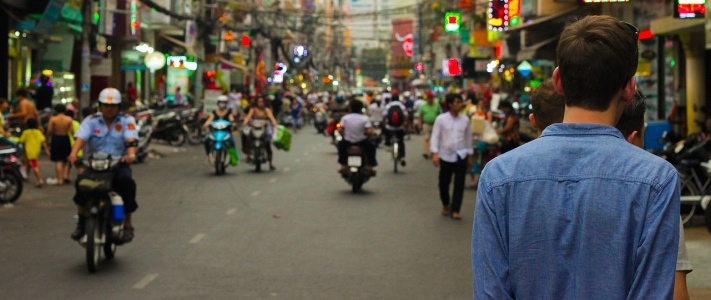 Are you struggling to increase your website traffic in an increasingly competitive online world? Well, maybe you haven't thought of the easy things you can do to make those numbers grow. As a marketer, it's very important to increase traffic to a website and convert them to leads and finally close them as customers.
According to Adam Connell, a marketing director at UkLinkOlogy, a digital consultancy firm, it's important to publish the right content, influence your outreach, create relevant niche communities and build an email list to generate website traffic.
Penquin's Pay Per Click Specialist, Linden Hugo, believes pay per click is the way to go if you need to increase your website traffic. He says, "If you do it right, spend enough time on your clients' accounts and have someone who's dedicated to attract more visitors and reach their specific goals, you will very quickly see the results and the traffic."
---
Read: 6 ways Google Adwords is making mobile marketing better

---
A recent article on Spitfire Inbound, a company specialising in inbound marketing, gives every marketer actionable tips and tricks on how to increase their website traffic. Here's our overview:
1. Focus on long-tail keywords
There are various benefits to targeting long tail keywords and the internet is full of them. Long tail keywords can target your audience in the right way by converting them into potential customers.
These keywords:
Provide search volume (higher impressions)

Have less competition than generic keywords

Are more specific than generic keywords

Are more profitable, because they have higher click through rates (CTR), lower cost per click (CPC) and lower cost per acquisition (CPA).
---
Read: Marketing terminology you should know

---
According to Caroline Melberg, a marketing specialist at Small Business Mavericks, "If you are still targeting generic [broad] keywords, chances are you aren't going to get a lot of traffic to your blog or website . But if you go after a couple of hundred long tail keywords, you'll stand a much better chance at attracting readers, links, and attention to your blog."
We recommend using HitTail and Answer The Public, two long tail keyword tools for anyone who wants to increase traffic from Google and other search engines. HitTail generates long tail keywords by analysing your existing website traffic and provides you with keywords relevant to your audience.
Mike Levin- Drive more traffic to your website with HitTail
Start a conversation
Social media sites like Twitter, Facebook and LinkedIn have become part of our daily activities and business lives, and including these tools in your marketing strategy will help you to reach a wider audience. This is a great way to raise brand awareness, make contact with clients and prospects, and nurture existing customers. Online forums are also great platforms to start a conversation as people gather in an online space to discuss specific topics.
In the book Get up to speed with online marketing, Jon Reed believes that online marketing always works for a business. He says, "Think of your market as a 'community of interest,' built around a particular topic related to your business. You may also be able to create a community around your business or product - if it is interesting enough!"
Online penalties
Google constantly refines the quality of a page to increase website rankings. However, your website may be penalised if it has poor quality content. Penalties can either be automatic or manual, but you may not always know if you're targeted if the cause of the penalty is algorithmic. Here are some reasons why your website may be getting penalised:
Buying links: Buying links can be seen as an attempt to manipulate PageRank. It's simple: Don't buy bad links and you won't get caught!

Exchanging links: If you're exchanging links with clients, it could be seen as a manipulation attempt and a violation of

Google's Webmaster Guidelines

.

Duplicate content: Make sure your content is unique and of good quality. Tools like

Grammarly

and

Plagtracker

can help.
Blogging all the way
Adding a blog to your website can dramatically increase the amount of visits to your website. It is very easy to build a blog, but attracting the audience you need is not always easy. Here are some useful tips to target the right audience:
Target content to an audience most likely to share:

Moz

, an online SEO consulting company, states, "Great infographics that strike a chord, beautiful videos that tell a story and remarkable collections of facts that challenge common assumptions are all targeted at audiences likely to share (geeks with facial hair, those interested in weight loss and those with political thoughts about macroeconomics, respectively).

Make your content SEO friendly: SEO is fairly easy to set up. Here is a

list

of things

Blogtyrant

, a developer of online blogs and businesses recommends to boost your SEO.

Guest blog: Friends and professional connections are of utmost importance when it comes to your blog. It is an easy way to spread your brand to other folks and very useful to earn links and reference back to your website.
For a complete list of tips and tricks, visit Moz.
Website conversions
Are your website visits and conversion rates down? Any blog post without a call to action is like a video without sound. Without it, nothing will happen and your website visits won't grow. They are the most important part of any website as they improve conversion rates, get people to complete a desired action and help your website achieve its main objectives. HubSpot recommends guiding your visitors through the buyer's journey by always using strong calls-to-action on your website pages. These examples by HubSpot will help you get it right.
Getting these tips right will help your business become successful. Focus on these techniques as metrics to gauge your success on the internet.
To gain more insights into your website, let us guide you into understanding your SEO, traffic, page performance and more. Grade your website today and receive these insights straight to your inbox.