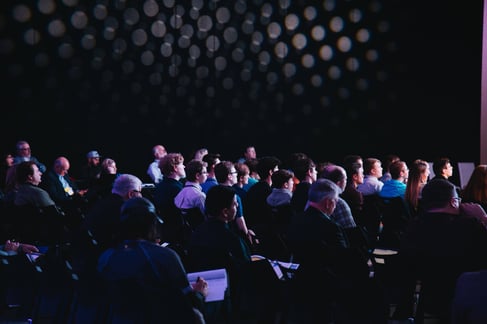 Integrated marketing is something that marketers live and breathe daily. This article explores how to take an integrated marketing approach to events.
Since the beginning of the COVID-19 pandemic, thousands of events have been cancelled, postponed, or pivoted to virtual events, but as we're slowly returning to business as usual, in-person events are making a comeback in the post-pandemic world!
While we may be eager to get back to in-person events, virtual events are here to stay in the post-pandemic new normal, and many brands and event organisers are hosting hybrid events that attract both live and virtual attendees, to maximise the event's reach.
With all that being said, this post will explore integrated marketing and how brands can take an integrated marketing approach to events in the post-pandemic world.
A quick recap of integrated marketing
Before we continue, let's make sure we're all on the same page regarding what integrated marketing is.
HubSpot defines integrated marketing as:
Aligning your marketing channels to promote your products or services in tandem, typically through a strategic campaign. Integrated marketing also works to align the primary brand message that's being delivered through your marketing channels and assets.
Most successful integrated marketing campaigns consist of channels and tactics, such as content marketing, digital marketing, case studies, traditional marketing, PR and influencer marketing. An integrated approach to marketing connects these different channels together to maximise a brand's success and recall potential. The result? A consistent, customer-centric experience that delivers results for your brand.
The role of integrated marketing in events
Now that you're all up to speed, let's take a look at what integrated marketing is in the context of events.
There is often a misconception that using several social, digital, and traditional channels to host an event qualifies as integrated marketing. Or if, for instance, a brand's billboards and social media pages of the event complement each other, they assume it's an integrated approach. But we're here to address this misconception and say that integrated marketing is not simply about slapping a common tagline onto all your messaging or using the same colour palette. Rather, integrated marketing is about delivering a consistent message, in a consistent tone, throughout every touchpoint.
An event is only integrated if it provides a seamless experience from the time attendees hear about the event and register, throughout the physical, digital, or hybrid event experiences, and long after they leave.
Events in the post-pandemic era: virtual, physical, and hybrid
Luckily for brands and the events industry, consumers' appetite for gathering at sports games, concerts, and other events didn't disappear; it was just put on hold because of the pandemic. Now that we're returning to 'normal', consumers are feeling more comfortable mingling in public spaces and crowds, and rushing off to do everything that they missed the most during the pandemic.
However, this comeback certainly doesn't mean that things will go back to previous norms. Events are going to look a bit different in the post-pandemic era: virtual events are here to stay, in-person gatherings have changed completely, and brands are investing more in hybrid events.
Let's take a brief look at some of the changes taking place regarding physical, virtual, and hybrid events.
Physical Events
Physical events are still the best when it comes to real-time interaction and in-person networking. Networking is a top reason for consumers to attend in-person events, think about HubSpot's Inbound conference, where the networking opportunities are endless.
For product showcase/launch events, your audience will get a better experience by touching and feeling the product in-person. With a physical event, you can also make the whole interaction and experience more immersive, for example, by incorporating the right lighting, decor, stage design, and music, among other details.
Capacity at physical events may, however, be an issue, as you can only invite a certain number of attendees that the venue can accommodate. Hygiene is also another concern at physical events, especially with the 'new normal' of hand sanitising and social distancing. Event organisers should ensure that strict health and safety protocols are implemented, and this may translate into additional costs.
Virtual Events
One of the key advantages of hosting a virtual event in this post-COVID era is the fact that it allows attendees to 'visit' the event and connect with other attendees from the comfort of their homes (or safe places of their choice). Therefore, health and safety concerns of hosting a virtual event are typically minimum.
Another advantage of virtual events is that, unlike physical events, attendees from all over the world can join the event and network. Learn more about the benefits of virtual events on Forbes.
Hybrid Events
By hosting a hybrid event, you'll get the best of both worlds in almost every aspect of the event. Firstly, you get to provide your audience with options: those who are comfortable attending in-person events can attend your physical event, and those who are still concerned with health and safety can attend the virtual portion of your event.
Hybrid events also allow brands to accommodate local and international attendees, which offer a greater return on investment (ROI) due to the increased reach and scalability of the event.
How to take an integrated marketing approach to events
HubSpot provides a comprehensive guide on how to build an integrated marketing campaign, and we're going to add to that by diving deeper into how to take an integrated approach to events, as well as some best practices.

Content marketing for the win
Content is a crucial lifeline of any event, and brands need to up their content game by delivering well-researched, data-driven, in-depth, analytical, long and short-form content, that adds value and addresses the audience's pain points. Skyword touches on some brilliant ideas on how to boost your event with a compelling content strategy.
When it comes to selecting which social media channels to leverage for your event, it all boils down to your goals. It's important to understand the pros and cons of each platform to determine where it fits into your strategy. Remember that the key to all social media content, regardless of the platform, is that it needs to be visually appealing and address the 'why' of your event, which brings us to the next point.
In today's world where the consumer comes first, it's important to keep in mind that the event you're hosting isn't necessarily about your brand, it's about the value that your brand adds to the audience. Ask yourself, what's in it for THEM? How does your event meet their needs? What are their pain points? How can your event solve a problem or offer a solution to them?
Make the benefits of your event simple and concise. Attendees will easily switch off, or lose interest if the benefits of your event aren't made clear.
Enhance the user experience
When it comes to events, every piece of the integrated marketing puzzle must be carefully curated to deliver value to the audience. From Tweets, to TikToks, every online interaction must be optimised to provide a seamless experience for the audience. The same applies to physical and hybrid events; how your brand receives attendees at the event, how content is delivered, and how your brand allows the audience to interact during the event, all form part of the user experience. Your audience not only expects, but deserves, every touchpoint to be intentionally designed to deliver value. This leads us to the next point.
Throughout your event, your brand will have several touchpoints which your potential audience will engage with, before, during, and after the event. It's crucial to have a deep understanding of each of these touchpoints, as it will help you to gain a better grasp of some opportunities to increase satisfaction along the way. Think about all the steps that the potential attendees take and keep a record of all their interactions, both on and offline. Every step and decision has an influence on how attendees perceive your event and overall brand, and creating positive, seamless, and memorable experiences is what will determine the event's success.
As mentioned above, potential attendees will engage with your brand before, during, and after the event, which can be quite complex and have many influencing components that ultimately impact the entire experience. Objectives and goals for your event may be different depending on various factors, but for most brands, it's all about designing an event to strengthen synergy, engagement, excitement, loyalty, and increase ROI. Improving the overall experience and interaction makes it more likely for attendees to recommend and attend your event again, helping you to build a customer for life.
Tie everything together and ensure that the integrated strategy for your event creates and fosters more personal and mutually beneficial relationships, whether they be on a local, national or international scale.
In the post-pandemic era, it's important to embrace the change in event marketing in order to turn your events into a multichannel movement. By taking an integrated marketing approach to events, your brand will remain relevant and put your business on the radar of an audience you might otherwise never get in front of.
Speak to one of our experts to help you up your events game with an integrated marketing approach. We also have a detailed Integrated Marketing eBook that will help you with your next integrated marketing strategy.