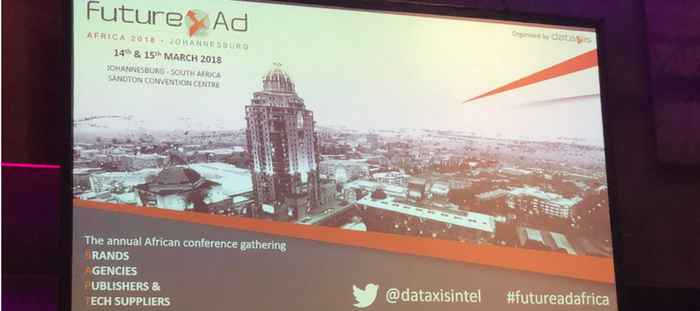 The digital wave is hitting Africa, will your brand keep up? Veronica Wainstein, Penquin's MD, spoke at the Future Ad Africa 2018 conference and here are her key takeaways from the event.
I was privileged to take part in a panel discussion (on digital and mobile uptake and combating spam) at the first ever Future Ad Africa conference (hosted by DataIX ), held in March 2018 at the Sandton Convention Centre.
Future Ad Africa (unlike other digital conferences) has a strong media focus. I recommend that any media owners, buyers or managers attend future events.
What interested me most was how creative and strategy fit into media. The event offered an excellent opportunity to learn and share information and insights with peers in the industry. Future Ad Africa aims to help attendees use the media to uplift and motivate businesses in Africa. The topics covered appeal to a much broader audience than the usual digital conferences.
The majority of the event was made up of panel discussions, which grouped professionals with similar skill sets. The discussions resulted in lots of learnings, debates and a wide variety of different opinions.


My three key takeaways from the event
1. Digital has no proof of execution and this needs to be addressed
A lot of people at the conference spoke about big brands cutting their digital spend due to lack of confidence in the medium. Traditional media allows brands much more control over when and where their ads are served. Digital has no proof of execution yet - and this is a problem. As a brand, you have to take it on their word that your ad was served to the right audience.
Brands are finding themselves in hot water because their ads are being published on sites that aren't appropriate, including:
fake news sites

sex and pornography sites

overly political sites
Furthermore, digital advertising is susceptible to things like:
Bots

Spam

Malicious software
Brands can't afford to be associated with seedy, poor quality websites like these. The backlash from poorly placed digital advertising causes brands to fork out further capital on crisis management. To avoid this, brands are simply shying away from digital - which is a huge shame, because (when done right) digital can deliver phenomenal ROI.
As advertisers, we need a better understanding of digital media placements. We also need to start holding paid media providers (like the Google display network) accountable for what they're doing.


2. Mobile is gaining momentum even faster than we thought
We know that video killed the radio star, but will mobile be the death of the video star? The widespread use of mobile in Africa is astounding.
If you thought Africa was lagging behind countries like the United States of America (USA) and the United Kingdom (UK), this is your wake up call. African citizens aren't just using their smartphones for social media.


We're dumbing down our audiences by buying into the perception that Africa is lagging behind. Don't be so condescending.
Consumers want information delivered where it's convenient for them and, right now, that's mobile, mobile, mobile. Any sound marketing strategy that looks at channel selection should be asking 'what are we doing on mobile' first.

Recently there's been a huge shift to live streaming content (like Touch HD and Cliff Central) and apps like Netflix and ShowMax. Over time I believe we'll completely do away with the typical scheduled and bought media on TV. Brands need to take action, and find a way to join the conversation and be part of this movement.


3. Build relationships with your audience
Speaking of joining the conversation… As I mentioned above, the growth of mobile (and internet usage in general) is proof that our audiences are a lot more sophisticated than we give them credit for.


Brands need to remember that our customers are worldly, well travelled, well educated, global citizens. Our advertising needs to address this.


Gone are the days when specials flyers and retail offers are enough to give you a competitive edge. Modern buyers want more. So much more! Brands need to ensure that their value proposition includes educating their consumers and assisting buyers along their unique path to purchase.
This speaks to one of the trends we predicted going into 2018: personalised, smart communication will dominate this year. 2018 is all about brands getting back to their creative roots, and telling good stories. I hear so many people talking about the need for storytelling, but not many are executing on their own advice.
If we don't engage people with more depth, they will block us as spam.
If brands wish to remain relevant, we need our customers to be part of our story. Our communication needs to be authentic and human. The key to attracting and retaining customers is to turn your brand into a family - people want to engage with approachable brands. It's about your customer's lifestyle - and how your brand can enable or fit into this lifestyle, not just products and services.
Fall in love with your customers and they'll fall in love with you.


Future Ad Africa Tweet roundup
Thanks for having me #FutureAdAfrica. I've always wanted to be on panel and hold a microphone like a serious person. pic.twitter.com/6gcomjFmAc

— natalie pool (@NataliePool) March 14, 2018
Some are even pulling their digital spend entirely, which is definitely a threat on the media landscape. As marketers we have an obligation to rebuild trust. #FutureAdAfrica @PenquinAds https://t.co/78WI8BLqPN

— Vee Wainstein (@VeeWainstein) March 14, 2018
"Can pan-African communication work? Is there such a thing as pan- Africanism? Should Media change perceptions of consumers, or be led by consumers? The answer is both." - @sarahlouisedex #FutureAdAfrica

— MullenLowe SA (@MullenLoweSA) March 15, 2018
This is the gospel of our work. Everything else is detail. #FutureAdAfrica https://t.co/CGHD1P6EG4

— Lynn Madeley (@LynnMadeley) March 15, 2018
A challenge and an opportunity at the same time. @PenquinAds @DataxisIntel #futureadafrica https://t.co/H0oeY2g6Bl

— Vee Wainstein (@VeeWainstein) March 15, 2018
#FutureAdAfrica: Brand safety is not optional, support local publishers https://t.co/awWBKUIjAy by Jessica Tennant via @Biz_Marketing @marcdup @SparkMedia @iab_sa pic.twitter.com/jJIuRrH590

— Marketing & Media SA (@Biz_Marketing) March 15, 2018
"Authenticity key to brand stories." Sonya Erdogan from @Nike #FutureAdAfrica

— Tess Sulaman (@tesssulaman) March 14, 2018
Creatives are under even more pressure to make an impact in shorter time frames #ChallengeAccepted @DDOUBELL @PenquinAds #FutureAdAfrica

— Vee Wainstein (@VeeWainstein) March 14, 2018
If you didn't join us at Future Ad Africa this year, make sure you sign up for next year's conference. It's a great opportunity to share your insights and learnings with your peers, as well as keep up with trends in the media industry.
Want to stay up to date with the latest trends in advertising? Subscribe to our blog. Penquin's integrated marketing experts regularly update our blog with tips, trends and helpful resources.