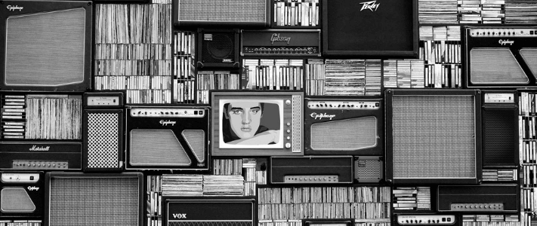 We firmly believe that it's only with a strong framework and a good strategy that you can make some amazing marketing. Here's the low down on media strategy and why it matters.
A good media strategy can help your business reach its target audience and improve the overall customer experience and conversion rate. Let's meet the face behind Penquin's media strategy.
Media strategy and planning is a core part of any digital marketing agency and it's one of the essential components to building a successful brand. From defining overall media goals and objectives to giving a company a sense of purpose, a media strategy highlights the key elements you should have in place before you start marketing to an audience. At Penquin, we believe in getting results and improving your overall ROI, and what better way to start than with a solid media strategy?
According to Wordstream, a search marketing company, "As consumers have become even more selective of where they spend their money, they want to know the businesses they support have their best interests in mind... Building trust doesn't require a big budget. All you have to do is make a promise to your customers and keep it."
Our CEO, Veronica Wainstein, sat down with senior strategist, Thando Mxosa to get to know him a bit better and find out what a media strategy entails and why brands need one.
If you need help with your media strategy, contact Penquin.
Your strategy is your framework, and it's your guide to making sure that your marketing:
Doesn't happen in a silo
Resonates with the right audience (people who will actually buy from you!)
Co-ordinates your marketing as a whole, above and below the line
Gets the most bang for its buck
Before we get into media strategy, I just want to highlight some other key strategies you should have in place before creating your media strategy - keeping in mind that a media strategy is created for campaigns or products, and has a very specific objective in mind.

Make sure you have your brand strategy (who you are) and your communication strategy (what you tell people about who you are) in place before you launch into creating a media strategy. These two strategies will guide the media strategy by providing information on your target audience. A creative strategy (concept, look and feel of this message per campaign) will follow your media strategy.
So what is a media strategy?
A media strategy is a granular strategy that breaks down, into detail, how you execute your campaign messages, by looking into:
Platform (as an example, this will this be on a billboard, Facebook or on radio - or all three?)
Integration (how will these ads convey the same message/ communicate to each other?) and what actions do we want the audience to take from seeing the media placement
Channel (which radio station?)
Times (during what time on which radio station?)
Don't make your media strategy in a void
It's essential to start off your strategy with some pretty fundamental understanding of who you're marketing to, and what your objectives are from the campaigns you're planning to run. We work closely with our clients to break these down! Too often a client will want to be on TV for the sake of being on TV. A media strategy will be able to tell you whether or not TV is the platform use and what other platforms you should combine it with.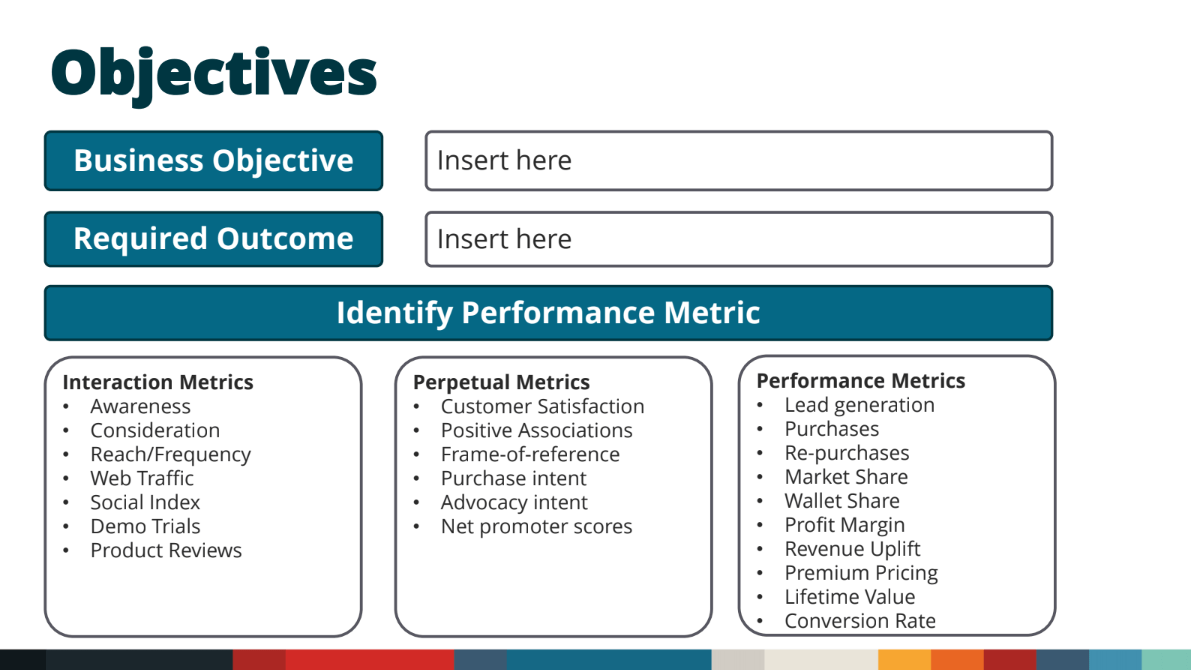 Required outcomes are key: you absolutely need to understand what you want to get out of the campaign, so you can create a campaign that reaches your goals. The media strategy for a brand positioning/education campaign will be completely different than the media strategy for a retail campaign.

Added to this, you need to have a deep understanding of your target audience for the campaign. For example, if you're targeting young Generation Zs, you should have a totally different approach to which media will be effective, compared to targeting Boomers. In this example, being savvy about your social media networks is absolutely key, whereas Boomers are probably still using traditional media and targeting some key spend towards print ads probably wouldn't go awry. However, never assume anything about your audience! Media data is key in determining where you can find your audience.

Apart from demographics, we also dig into the psychometrics behind the people we're targeting: who are they, what drives them, what are their goals?

Have a look at the below slide from our presentations to client to understand this a bit better: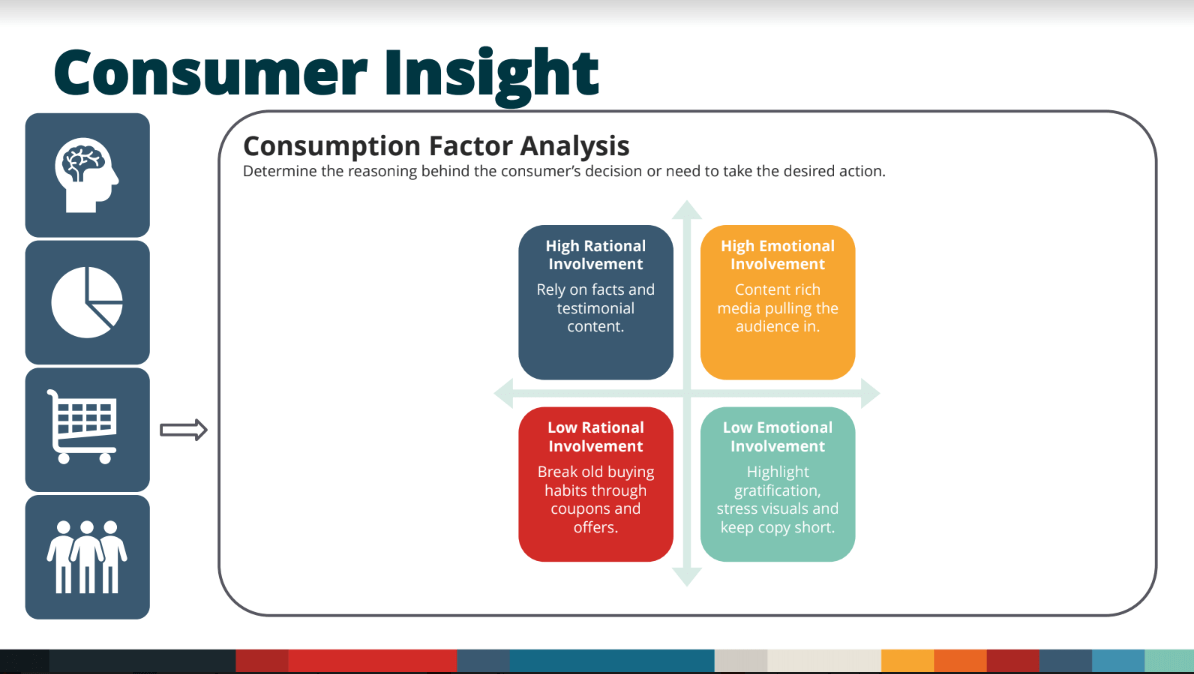 The consumption factor analysis will be key in selecting media. If you are selling a gaming console your audience will have a high-emotional involvement in that decision. They thus need content-rich media that can leverage that emotion. Whereas if your audience is buying toothpaste, the involvement might be low and rational, and a promotion at POS might be an ideal platform.

The most important part of your media strategy is understanding what the journey is that your consumer goes through to buy your product/service. Traditionally the journey will look as follows, however it might change based on the objectives and audience:

It is crucial that your media strategy takes this journey into consideration so that you confront your audience at each of the stages in the journey. This approach increases conversions and helps you get to that most important objective.

Now that you understand the importance of overarching strategy a bit better, we're going to break down some key aspects of these strategies in a more granular way. After all, your media strategy needs to break down which platforms you're targeting in a very detailed way, as we highlighted above.

Overall, media itself is divided into two sections: traditional media, and digital media. We go into more detail below.
Traditional media strategy
This strategy will recommend the appropriate traditional media targets for your brand: where you should focus your budget and advertising efforts to gain the most success for your campaign.

Traditional media will give guidance for above, below and through the line efforts, and is aware of the capabilities of each channel and will make appropriate recommendations accordingly.
This could include:
Media planning and research
TV buying
Radio buying
Print buying
Out-of-Home buying
Cinema buying
Data analysis and modelling
Contract management
This is heavily informed by your brand strategy and communication strategy, both of which give insights and data into who is the ideal audience to target, what media are they engaging with, and what do we want them to do once they have been exposed to the messaging around your products.

As you can see from the slide below, we approach this in a very detailed way in conjunction with your digital marketing efforts: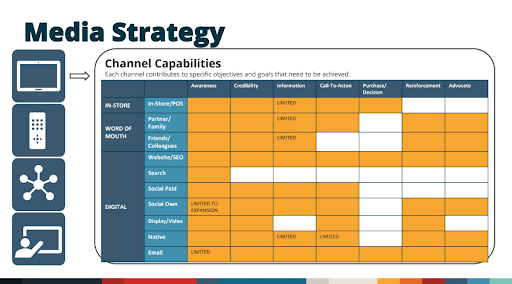 A comprehensive traditional media strategy ensures you are putting both your budget and your efforts into the correct platforms, at the correct times, to speak to your target audience. This prevents the "spray and pray" approach and allows you to get maximum traction from your traditional marketing efforts.

One of the key benefits of retaining a media agency is that with our extensive relationships and experience, we are able to negotiate the best media solutions and opportunities. Our strategic, data-driven, approach will ensure that your traditional media campaigns will be executed effectively and efficiently, maximising reach and frequency and minimising wastage. Our platform agnostic approach enables us to develop recommendations that are best placed to reach your campaign objectives.
Digital media strategy
Although digital media is increasingly important for brands, too many decide to try a little of everything without selectively choosing the platforms that will give them the most bang for their buck. This is where a digital media strategy comes in: selecting the platforms - and strategies on those platforms - that will not only give you the necessary measurability, but also advice on what to measure, and which platforms warrant your attention and marketing budget.

Again, your target audience psychometrics are vital to making these decisions: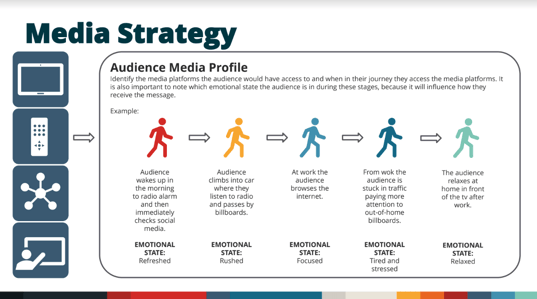 A focused digital media strategy allows you to choose the important metrics to measure (which helps greatly with understanding your audience, and with getting ROI from your marketing efforts). It will also advise on which platforms to focus your efforts, and help you integrate your online and offline messaging.

These tactics allow you to have a wide presence online, and attract people that might not have heard of your brand. There are other advantages to using digital marketing too...
Affordable:
Compared to many of the other marketing options, it is relatively inexpensive to build up a successful online footprint.
Room for innovation:
Because it is a more fluid platform, it's possible to be quite creative with your campaign execution.
Data:
With the kind of information you can get on user behaviour, you can ensure your current and future campaigns are hitting the right notes.
Optimise:
Using data, we constantly optimise your campaigns to make sure they're doing the best they can.
A/B testing:
Not sure what's working? Using A/B testing, you can better understand which of your digital elements are resonating with your prospects.
Smart content…..
A solid digital marketing campaign will probably include some (or all)
of the following:
SEO

PPC (Search, Display and Video)

Web and app development

UX/UI

Customer analytics

Programmatic Buying - Real Time Buying (Display, Video and Native)

Premium Digital Buying

Data analytics and modelling

Email and Inbound Marketing

Social Media Management (Paid and Organic)

Tracking, monitoring and listening
---
Are you curious about how well your digital presence is performing? Take our Digital Audit quiz and find out.
---
In conclusion
As you can see, creating a detailed media strategy is no walk in the park! There are lots of different aspects to look into, and co-ordinating this with your other marketing strategies is absolutely key.
If you need help setting up your media strategies, contact us! We have a team of experts always willing to help.