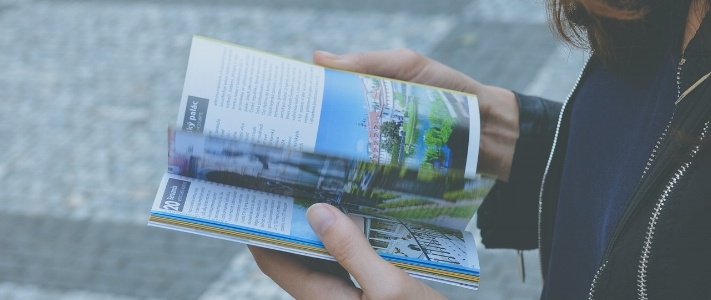 If you heard that print was dead, you heard wrong. Print ads are still the most trusted form of advertising, despite the popularity of digital media.
Between the digital boom and the increase in environmental awareness, people are speculating as to whether or not print is a dying industry. According to MarketingSherpa, a research facility specialising in marketing, this is hardly the case.
MarketingSherpa performed a customer satisfaction study in October 2016, and the study showed that 82% out of 2 400 respondents identified print ads as the most trustworthy form of advertising.
The results, in order of most to least trusted forms of advertising, were as follows: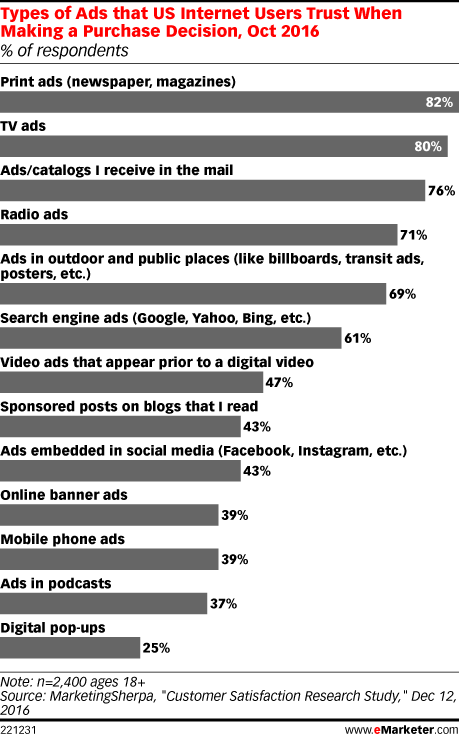 Image source: Contently
According to Contently, a technology company focused on helping brands to create better content, the digital boom has definitely claimed some of the print ad share. However, it isn't as much as we imagined.
Contently were intrigued by the level of distrust in sponsored posts.
Craig Davis, a Contently contributor, wrote that "both traditional platforms [TV and print] maintain higher levels of trust than their online counterparts". In fact, surprisingly, "even direct mail and radio campaigns, the most antiquated of options", score higher levels of consumer trust. This, Craig says, is "another interesting trend to pay attention to".
Contently partnered with The Tow-Knight Center for Entrepreneurial Journalism at CUNY, performing a study into consumer perceptions on native advertising and its impact on publisher trust. They discovered 54% of respondents "felt deceived by sponsored content in the past" and 43% labelled a publisher as untrustworthy if they feature native advertising from an untrustworthy brand.
On the other hand, 41 % of respondents felt a publisher featuring content from a trusted brand was reliable and honest. The study concluded that the key to successful online marketing, was to remain transparent, "through clear labelling and honest storytelling".
"Placing advertising that is contextually relevant to the publication has shown even higher ROI for a number of our advertisers." - Sandra Palmer, Media Director of Penquin
Newsworks, the marketing body for national newsbrands in the UK, also performed a study on the effectiveness of print media advertising during 2016.
The results for this study mirrored those of MarketingSherpa's customer satisfaction study, showing that the inclusion of print ads as part of your media mix increases the ROI of your campaign.
Here are some interesting stats from Newsworks' 2016 study on the effectiveness of print ads as part of your media mix: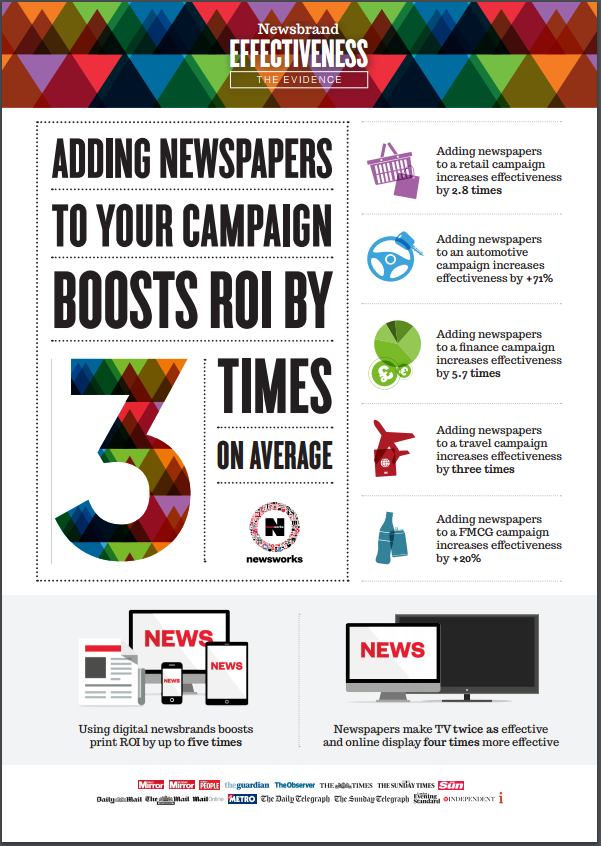 Image source: Newsworks
Don't write off print advertising as a thing of the past. If you want to create a holistic, integrated marketing campaign, then print media should still form part of your media mix.
If you're interested in reading more about traditional vs online advertising, you can access the full Contently study, Fixing Native Advertising, Newsworks' study on Newsbrand Effectiveness and MarketingSherpa's Customer Satisfaction Research Study on their websites. You can also read Craig's full article, Print is Still the Most Trusted Type of Ad.
Subscribe to the Penquin blog to receive all of our latest insights and insider tips on marketing.