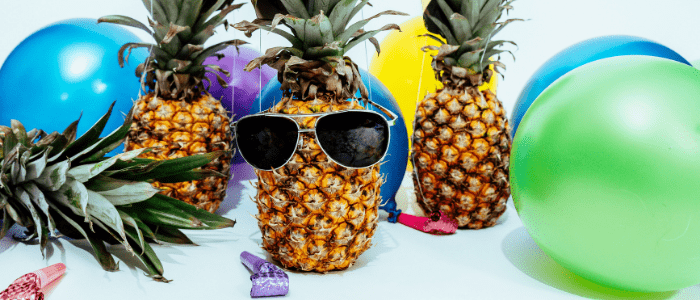 Virtual events became "the new normal" in 2020. We navigated through the COVID storm and learned a lot of lessons along the way. While live events are hugely missed by many in the event industry, virtual events definitely have their benefits - but what about enjoying the best of both worlds by opting for a hybrid event?
Corporate year end functions are without a doubt the highlight on many employees' calendars for the year. It's a time when milestones achieved as a company are celebrated within close proximity of each other before heading off for the festive season.
This year many corporate organisations sit with the decision as to how to navigate the year end event with the current level 1 regulations (with the possibility of heading into a stricter lockdown once again). While a virtual event is the trusted route for many, hybrid events are quickly becoming the recommended route by many event planners.
So, why host a hybrid event?
The biggest challenge is defining what "hybrid" means to each organisation. This discussion will help determine what technology infrastructure the event will run from. It'll also outline the objectives of the organisation wanting to host a successful hybrid event.
The way in which you split your company as two audiences will be largely determined by the event structure and budget. The budget allocation will determine the size of the venue and more importantly the level of entertainment that will make up the day's programme.
The hybrid event "High Five" - key things to consider during your planning
Here are the key elements event organisers should consider when planning an internal hybrid year end event with Penquin:
1. Connection: how to integrate you online audience with in-person attendees
How do you connect the two separate audiences to ensure the virtual audience are feeling as involved and excited as those employees who are joining virtually?
Should you open the live event experience up to all employees on a first come first serve basis?

Should you limit this to only management and key persons who form part of the overall programme (i.e. speakers, entertainers, award winners and so on)

Should you make the live venue a VIP experience by awarding these seats to a certain number of employees whose names are randomly drawn?
2. Event organisers should create an event journey
Create your event as if it were its own "ecosystem". Perhaps, look at including a web application to bridge the gap between the live and remote virtual audience. This platform will allow the audiences to engage with each other through functionalities such as live chat and gamification.
Live chat is going to be one of the main equalisers and the star of the technical platform you choose whether you're hosting virtual or hybrid events and conferences. We would recommend choosing a platform which allows all the attendees to see each other to help improve the connection between audiences.
3. Shift to an event producer mentality
Plan with the end in mind - think of yourself as the designer of this event programme. You're in charge of creating an agenda that is engaging and effective. Run through each idea you have for the overall event and think how you could expand on these to ensure a meaningful experience for all attendees. You know your team best. This insight will often help the event company meet your objectives and brief best.
4. Communicate safety
It's important that you integrate safety points to comply with COVID regulations. Remember some employees will choose to be part of the virtual event due to health complications or fear of the virus - and that's okay.
Should you opt to include clients at your year end event, be mindful of the number of in-person attendees in relation to the size of the venue you've chosen.
This virus is sticking around, and it's important your in-person attendees feel that you care, by going the extra mile to exercise COVID protocols such as mask wearing. This is also key if you are planning to publish any images from the event on your company's social media platforms.
5. The devil is in the detail: making the big day a memorable affair
Having run many successful virtual and hybrid events this year, we've picked up a few really important tips to wow your attendees:
Attract star talent for entertainment
This is where the magic lies! A star host, speaker or performer can encourage engagement throughout your event.
Ensure you invest the necessary budget in quality entertainment to keep the audience engaged. The atmosphere in a socially distanced venue and a virtual attendee's lounge may be lacking either way so you need to find a way to avoid this. While content may be king, delivery is queen.
Make the audience part of the show by including them where possible. A great host is key and is the golden thread which ties your event together and keeps the audience motivated and engaged.
Avoid FOMO
This is not how life used to be – we don't want to foster FOMO in any attendee who is not at the live event. Encourage the live and remote audiences to engage to ensure the online attendees feel included.
Successful décor!
How do you bring the theme or event branding into both venues (on and offline) to ensure the remote audience gets to experience this as well.
Lighting for example is an effective décor element that can be the vehicle to your theme. This can be easily integrated into your venue décor and online platform. Alternatively decorate the live venue and include some décor into the SWAG box for the virtual attendees to use at home.
Speaking of SWAG...
Spoilt – virtually!
The attendees at the live event will be provided with catering and beverages. Ensure the remote attendees feel just as spoilt and considered.
Work with your event company to put together SWAG boxes which can be delivered to each person prior to the event, packed with all the same treats. Avoid elements that spoil as such fresh products (i.e. diary or flowers as tempting as it may be). Create an experience and incorporate elements from these boxes into the days event programme to create a connection between the audiences.
Silence is not golden!
The biggest killer for any virtual event is bad audio. Ensure that the platform you have chosen to use for your event is easily accessible on mobile, desktop or tablet.
Ensure the sound during presentations and entertainment is crisp and clear. Test, test, test before you go live - we cannot stress this enough. Ensure your event planner invests in a reliable AV company that has the experience to manage a virtual event (and any technical issues that may occur during the production).
Live stream or pre-recorded
While pre-recording removes the risk factor, it can often remove the excitement and engagement factor from performances or presentations if not done correctly.
Ensure the quality of any pre-recorded material is high and the editing is professionally done. At an internal event it would be exciting to include live crossovers to certain employees who are remote to create some excitement and an element of real connection.
Dress code
For the past few months your employees and clients have been at home, unable to attend the functions and events they usually would throughout the year.
Make the year end event an occasion to dress up (that's right: no pajamas or sweatpants allowed) – be it in evening wear or themed wear. Create some excitement around this by asking employees to snap selfies at home with props from their SWAG boxes, or at the event and post them on the company whatsapp group to create a vibe.
At the end of the day, the most valuable tool at your disposal is an event planning checklist. This handy list will assist you in keeping control of your budget and will make the to-dos more manageable.
The Hybrid attendee journey can be exciting, if it's well planned and brilliantly executed.
We invite you to talk to our team of event professionals at Penquin to assist you with planning your hybrid event strategy. We'll remove the stress, share innovative virtual event ideas and help you find the perfect hybrid or virtual event platform, so that you can enjoy the festivities with your colleagues.
Live, in-person events will never go out of style, we're certain they'll be back in 2021. But for 2020, have a back-up plan…. make hybrid events yours!