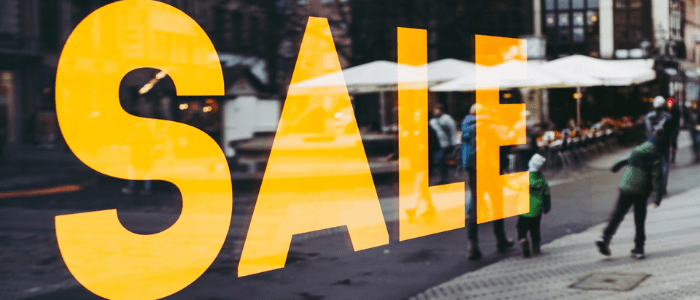 COVID and South Africa's downgrade to junk status has placed a lot of strain on the local and global economy. With marketing budgets being subsequently cut, is it still necessary for brands to participate in Black Friday this year?
It's that time of year - holiday shopping season is about to open, as 2020 starts to wind down.
Black Friday usually sees a lot of consumers turn into bargain hunting maniacs. Still, with a global pandemic and the South African economy being under constant pressure, people are hesitant to visit traditional brick-and-mortar stores and spend much more time online nowadays.
The real question, however, is whether it makes sense for brands to run Black Friday specials and how e-commerce platforms can prepare for the biggest sale of the year.
How will Black Friday be affected by COVID and a recession?
Keeping this year's challenges in mind, marketers should think of Black Friday as an opportunity. Although it has changed over the years and will undoubtedly look different with social distancing and tighter pockets on 27 November, brands can still get creative with their specials, digital marketing and technology – if it makes sense for them and their audience.
Online shopping will dominate this year
According to Criteo, an online retargeting company, "This year saw an unprecedented acceleration in e-commerce growth, the rise of safer store shopping options, and increased comfort levels with online-meets-offline purchasing (BOPIS, curbside pickup). Taken together, [Black Friday] has the potential to be a key period for businesses to resonate with more audiences in more ways for far longer than usual. More than ever, 2020 [Black Friday] shoppers will be on the lookout for offers that inspire and bring value to them and their loved ones during the season when it matters most."
---
Find out more about how to approach your marketing during tough economic times.
Read: Always-on vs campaign-based marketing during uncertain times
---
If you're considering doing Black Friday this year, you need to keep a few pros and cons in mind.
Things to consider in preparation for Black Friday
Online platforms will likely see a spike in sales
Impression, a digital marketing agency in the United Kingdom says, "Rather than a standard marketing campaign, which would try a number of tactics to bring more people to your site under normal circumstances, a Black Friday campaign automatically gives potential customers a reason to come to your site and buy your products at a specific time."
This year, we (at Penquin) believe people will do their necessary shopping with the majority of it taking place in an online environment. Let's be honest, it will be difficult (and unsafe) to stand outside a big shop with massive crowds and queues during a global pandemic. Although many shops will still run in-store promotions, shopping will shift to an online space completely. We'll experience a shift in behaviour from people in terms of being more cautious about their purchases and not splurging and buying impulsively.
Lower consumer demand
Although Black Friday presents a significant opportunity for most brands, we need to keep in mind that prices might not be as reasonable this year with the current exchange rate. Retail deals will most likely be limited as a lot of products are imported, and shipping costs will increase substantially. Brands can't therefore offer as reasonable discounts compared to previous years.
A recent article published on Bizcommunity states:
"In 2020, online retailers can expect a bumper sales period over Black Friday and Cyber Monday (BFCM) as shoppers avoid physical retail stores and shopping malls over COVID fears. Many cash-strapped South Africans will also be looking to capitalise on welcome specials and pre-Christmas deals over the period. This represents a massive opportunity for online sellers in South Africa to step up and deliver to a market which, until the surge in COVID online spending, was sitting at just 1.4% of total retail sales in 2018, according to World Wide Worx's Online Retail in South Africa 2019 study."
To participate in Black Friday in 2020, brands will need to rely quite heavily on their digital advertising and plan accordingly. The focus should be on targeted and relevant digital advertising to eliminate competitors successfully. However, it will become tough to compete in an online space where vast amounts of money are spent, and the cost per click and cost per lead will skyrocket. Suppose your brand is planning to spend money digitally. In that case, you need to have a proper strategy and budget in place and not necessarily only rely on Google Advertising, because you'll be spending a lot of money and see lower conversion rates. Take it from us, you're not going to win the online battle quickly, so you'll need to be smart about it and use remarketing as a cost-effective marketing strategy.
Bizcommunity continues, "From managing client expectations to careful inventory management, getting a jump on early marketing, ensuring the robustness of your site and server and bringing in temporary staff to help, it is critical that e-commerce companies put in the work now to ensure a smooth November. One particular area of attention for all e-commerce sellers must be to continually gauge the operational preparedness of their chosen courier network to ensure they have the necessary capacity to meet the hike in demand."
How can brands prepare for Black Friday?
Building up to Black Friday this year, the pre-launch and your marketing are very important. Nobody should do Black Friday without planning! Make sure you know when consumers are doing their research on where they're going to spend their money. If your brand has no clear plan in place, you are missing the boat entirely as people are already planning what and where to buy products and services.
Pro tip: If you're not running any Black Friday deals, turn off your advertising over that period, so you're not paying a higher cost per click rate. People look at deals weeks in advance.
E-commerce platforms should prepare for the storm that is Black Friday
From an e-commerce perspective, make sure your website can handle a large amount of traffic before and after Black Friday. There will be a significant influx of people visiting your website, so your payment gateway and website need to be up to scratch.
Be prepared to deal with questions and queries regarding your deals to ensure customer success and user-friendly customer experience online. You can prepare a list of FAQs beforehand and instantly answer consumers or process refunds, if necessary.
Key takeaway: Brands should only participate in Black Friday if it makes sense for them to do so. It shouldn't harm your business, but if you run a big e-commerce platform, it's crazy to do nothing!
Black Friday is here to stay, and it just depends on how your brand plans on handling it!
If you need help with your marketing, download our helpful Integrated Marketing eBook below!