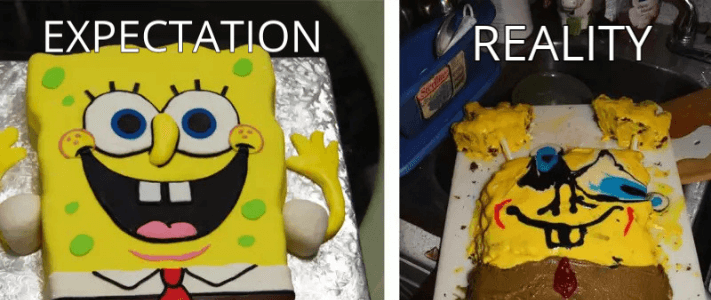 Marketing has evolved significantly over the years and so have clients' expectations of marketing agencies. Here are six main expectations that are far from the reality of the world of marketing.
Digital marketing has brought advertising many new opportunities and with the unbelievable growth of social media marketing, generating leads and growing a client's brand and bottom-line has become a little bit easier. However, marketing experts know that with all these advantages, come downfalls such as marketing expectations that come from clients that really don't match the reality. These are our top six expectations vs. reality examples.
Expectation 1
A client's small investment in their marketing strategy will have large results, especially in digital marketing. Clients think that digital marketers do not have to break the bank when creating effective and efficient digital marketing strategies. Clients expect agencies to create something wildly creative that goes viral all on a small budget. Winning!
Reality
The phrase 'you have to spend money to make money' applies not only to traditional marketing but digital marketing too. In some aspects, digital marketing is cheaper than having to pay for your ad to be on a billboard, but that does not mean that you can do it for free.

Unfortunately, many businesses have a small budget for their marketing strategy, expect big results and are often left disappointed when reality hits and the results aren't as good as they expected them to be.
Expectation 2
Digital marketing is 'set it and forget it'.
Reality
Digital marketing is always evolving and so, it's important to make the time to revisit your strategy and make sure that it aligns with your agile business goals while following industry best practices. Social media and PPC ads require constant monitoring as campaigns need to be adjusted so that they always offer the best possible outcome.
Expectation 3
Influencer marketing is the hottest digital marketing trend at the moment and many clients feel they need to collaborate with any top-notch influencer with a massive following will attract the target audience and convert to sales.
Reality
Partnering with the wrong influencer can result in consumers losing trust in your brand. Many brands tell their marketing agencies to go with celebrities as influencers for their campaigns when micro-influencers have more influence on niche markets.
---
Are you interested in finding out how well your online presence is performing? Take our digital audit by clicking here and we'll help you find out.
---
Expectation 4
With all the amazing content your team is producing, it's only a matter of time before those contact forms start flying in and generating more leads.
Reality
Great content does not always lead to the number of leads your client might be expecting. When it comes to content marketing, it can be a hit or a miss. A strong social media presence is what will generally increase traffic to a website and improve lead generation.

Content must be created to speak to the right audience at the right time on the right platform. It is therefore very important for your content to have specific goals i.e is your content focused on educating your customers or is it focused on driving thought leadership. Without clear goals you will find that it will be nearly impossible to drive short term sales even if you have the best pieces of content at your disposal. Content should have a focus which correlates with current problems and needs that your customers face while remaining relevant and thought-provoking. Content that is backed up by clear and well defined goals is what makes the difference - and that takes time.
Expectation 5
Community management can be done internally by any of the employees. Posting lots of content across all social platforms will attract the target audience and convert to sales. Many clients think that they can use the same posts on Facebook, Twitter and Instagram.
Reality
Social media is a beast to anyone who does not understand it, and even worse if you cannot keep up to date with the continuous changes. Community management can easily become incredibly overwhelming if you're not aware of the algorithm changes to the various social media platforms. It can also become difficult to increase lead generation if you do not tailor your social media posting to each platform.
Expectation 6
Especially on initiation of a campaign/strategy, Clients expect regular, weekly performance tracking and reporting of campaigns from their marketing agencies. They want to see their campaigns taking off and flying high immediately and the results in a report two weeks after the marketing strategy has been launched.
Reality
Reporting should be done on a quarterly basis if possible, with metrics that matter. The reality is that reporting data takes time to gather; like a seed, you need to let your campaign take root, to grow organically before viewing the results. This can take anywhere from a month to three months before they will highlight the gaps and opportunities between targets and actuals and provide data that will help with re-alignment
Marketing agencies and clients both need to ensure that they understand the thin line between expectations and reality. Setting realistic expectations on actions and deadlines based on business goals is what is needed to be successful. If, as a client, you are not realistic about what it is going to take to be successful, chances are that you will end up frustrated with your lack of progress.
Subscribe to our blog for regular updates about marketing and advertising in South Africa